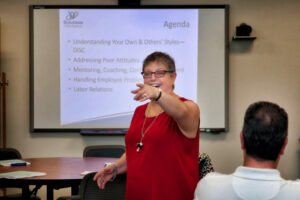 Solutions for the Workplace, LLC provides high-quality training and consulting—by Federal HR experts—on a range of human resources and management development topics that are customized to meet client needs.
Training
Our programs focus on:
Basic human resources skills for managers including recruitment, performance management, discipline, providing feedback, FLSA, and EEO
Effective performance management and alignment of organizational goals to individual performance
Equal Employment Opportunity, Diversity, Generations, and Harassment training
Management development topics including delegation, team building, communication, and problem solving
Career transition skills including personal branding, resume preparation, and interview skills
Training for federal HR staff on staffing, classification, veterans' preference, job analysis, and the like
Federal retirement training including Civil Service Retirement System (CSRS), Federal Employment Retirement System (FERS), Law Enforcement Officer (LEO) training, and TransFERS. Our retirement training is targeted toward mid-career and employees close to retirement.
Mentoring Skills Workshop including descriptions of roles and responsibilities of mentors and mentees. Critical skills required of mentors and the benefits of mentoring for mentors and mentees
Nancy has been by far the BEST instructor I have ever come across in my twenty years of Federal service!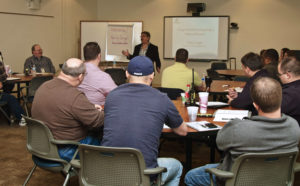 All of our training sessions are instructor-led and include extensive participant materials. We believe in training that respects individual adult learning styles, promotes skills and knowledge acquisition, and encourages hands-on practice and reinforcement.
Depending on client interest, we use a number of assessment tools including Myers Briggs Type Indicator (individual, team and career-oriented MBTI tools), DISC, and Parker Team Player. Our instructors are both certified and experienced in using these tools.
Our training programs can be scheduled from a half day to five days, depending on client requirements.
Contact Nancy Segal to discuss a training program for your group.
To be honest, I truly was not looking forward to a four day class on HR stuff. I'm an "operations" guy, and being nailed down in a classroom is not generally something I enjoy.  Now with that said, I have to admit, this was one of the best and one of the most informative classes I have attended. Your personalization of the material and attentiveness to the questions was greatly appreciated. Thank you once again for the outstanding instruction!
Consulting
Leveraging a 30-year background in federal HR, Solutions for the Workplace, LLC can help create high-performance organizations and align results with your strategic goals. We provide a range of services to help you achieve your desired outcomes:
Write or update human resources policies and procedures that work
Develop succession, workforce planning, and strategic plans
Evaluate existing human resources programs and their effectiveness
Develop and implement talent management, workforce recruitment, and retention strategies
Develop performance management programs, performance standards, and performance improvement strategies
Devise outplacement strategies and programs
Conduct workforce analysis and planning
Other related services
Contact Nancy Segal to discuss consulting services.
Accessible through GSA Schedules