The Complete Guide to Writing a Federal Resume: All-New Third Edition
Nancy recently partnered with John Grobe and FEDweek to co-author the all new publication, The Complete Guide to Writing a Federal Resume. The book is designed to help "DIY-ers" understand the process for applying for federal positions and prepare the strongest possible resume to maximize opportunities for landing a federal job and avoiding the most common mistakes in a confusing process.
This book is arranged in easily-digestible pieces so you can read it from cover to cover or just search for the sections most pertinent to you. It includes many exercises and worksheets to help you hone your skills, help with USAJOBS.gov application process online, sample cover letters and resumes, and much more. 
Learn more about this book and order online.
---
The Complete Guide to Interviewing for a Federal Job
The key to landing the federal job you want is preparation and practice. This all-new book is designed to give you a good idea of what to expect from the interviewing process, tools to prepare for your interview effectively and sail through it, and advice on what to do after your interview. That includes how to follow up, what to say, and how and when to say it. It's the perfect complement to The Complete Guide to Writing a Federal Resume. Learn more about this book and order online.
---
Complete Guide to Federal Career Transitions
With significant changes expected across the federal government in coming months and years – and in some cases already taking place – including restructuring, downsizing, and reductions in force, many federal employees are thinking about transitioning to new jobs. For some, that means leaving the federal government while for others that could mean moving into another agency or institution. This book is designed to help you think through that process, come up with a plan of action, and execute it. Learn more about this book and order online.
---
Nancy Segal's federal resumes have also been published in several books, including Ten Steps to a Federal Job (2nd edition) and The Book of U.S. Government Jobs (11th edition). She co-authored the groundbreaking Writing Your NSPS Self-Assessment (first and second editions), which was heralded in the Midwest Book Review as "a wealth of sensible information and resources" and "highly recommended." The first edition of the book was a ForeWord Magazine finalist for Book of the Year.
Nancy authored "It's Not Just about the Paper—Interviewing for a Federal Job," which appeared in the Career Planning and Adult Development Journal. She has also written articles that appeared in FedSmith, as well as numerous other articles, book reviews, pamphlets, and brochures related to best practices in Federal Job Search and Federal HR.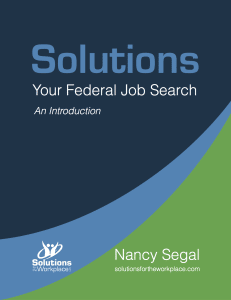 Nancy also has several eBooks in development. These include:
Solutions: An Introduction to the Federal Job Search Process
Solutions: Creating Your USAJOBS Account and Profile
Solutions: Analyzing Federal Job Announcements
Solutions: Entering Your Resume into USAJOBS
Solutions: Interviewing for a Federal Job
Subscribe to our periodic newsletter (in the sidebar of this site) to be notified when these eBooks are available.